Blog
Breast Cancer Support Tauranga
10 June 2019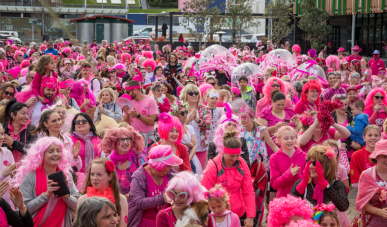 One of the first organisations to join Events Pronto was
Breast Cancer Support Service Tauranga Trust
. The trust, an independent charity established in 1991, provides support for people who have been diagnosed with breast cancer. Helen Alice, the service manager, loves that Events Pronto makes the logistics and marketing of events easy for her organisation.
Breast Cancer Support Tauranga holds various events throughout the year, from walks (this month's Papamoa Hills Night Walk is happening for the tenth year running) to luncheon fundraisers and a Volunteers Afternoon Tea. These events are mostly for fundraising but are also to raise awareness of the organisation and what they do, says Helen.
Helen says Events Pronto "has helped hugely with the logistics of helping people easily book for our events". The system makes it easy for people sign up to their events, and it makes payment easy for both the trust and their customers.
One feature of Events Pronto that Helen appreciates is that it allows her organisation to track who is participating in an event. She says this is important for health and safety for the Night Walk (this event takes place in the dark and has restrictions on children attending).
Events Pronto also allows Helen's organisation to market future events to existing customers. The system saves the contact details of those registered for your event so you can send them information about other events you may have.
One thing that Helen would like other organisations to know about Events Pronto is the helpful service. "If a problem occurs it is so valuable to be able to reach someone quickly who can help sort it out for us," she says.
You can find Breast Cancer Support Tauranga's
upcoming events here on Events Pronto
. The Papamoa Hills Night Walk is happening on Friday 14th and Saturday 15th June. Bookings are closing very soon, so don't miss out.
An article by Clodagh O'Carroll
Clodagh O'Carroll recently graduated with a Bachelor of Communication Studies. Her special interests are public relations, writing, and media studies. She also has an interest in non-profit organisations.
An article for Events Pronto and its followers
Events Pronto is the all-kiwi online booking and administration platform that takes the leg work out of managing conferences, events, courses, workshops and much more. Organisations pay a small monthly or annual fee to use the service - no booking fees, agency fees or commissions! Try it free here or call us on 07 575 6903.
To see the latest articles by Clodagh and other contributors please follow Events Pronto on Facebook.