Blog
How to create a Facebook advert
5 December 2018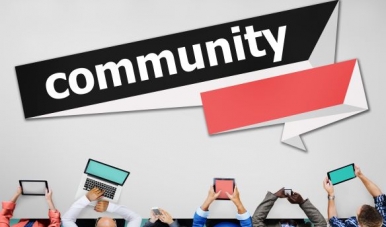 Having an active Facebook page is important for growing your organisation's social media presence, but algorithms can make it hard to attract new followers. Fortunately, Facebook advertising can be an effective way of promoting your organisation and increasing your audience. Depending on your organisation's goals and resources, this may or may not be your best choice, so consider it carefully. If it is the best option for your organisation, here's how to create a Facebook ad.
To begin, click the triangle next to the Help button at the top of your Facebook page and click "Create Ads". This will take you to the Facebook Ads Manager, where you can create a campaign.
You will be prompted to select one marketing objective out of a list of possible objectives. These are:
brand awareness,
reach,
traffic,
engagement,
app installs,
video views,
lead generation (collecting information about people who are interested in your organisation),
messages (encouraging people to talk to your organisation on Facebook Messenger or WhatsApp),
conversions (encouraging people to take valuable actions such as buying something from your website),
catalogue sales, and
store visits.
Once you've chosen an objective, you can name your campaign and set a budget limit if you wish. When you're done, clicking "Set up an ad account" will take you to the next step.
On the Account page, select the right country, currency, and time zone. Under Advanced Options, you can also choose your account name, which may be your own name or that of your organisation. Unfortunately, you cannot change any of these options later, so doublecheck they're correct before hitting "Continue".
The next page allows you to name your set of ads for when you want to check on your ad's performance once it's up and running. You must also select the Facebook page that you want promoted. Depending on which marketing objective you selected, there may be more options, such as choosing your business locations.
On this same page, you can choose a target audience for your ads. This can be as specific as you want. You can target Facebook users by their location, age range, gender, and/or languages spoken. There are also more detailed targeting options. These include:
education (for example, field or place of study),
income, life events (for example, people with new jobs, or people who are friends of people with upcoming birthdays),
parents with children of particular ages,
politics (US politics only),
relationship status, and
work (for example, workers in certain industries, or employers).
You can also target users based on their interests or behaviours.
You can select more than one targeting option, and you can choose to exclude some groups if you wish to target a very narrow audience. Another option is to target users based on their connection with your organisation. For example, you can include friends of people who Like your Facebook page, or exclude people who have already responded to your Facebook event.
Once you have selected your target audience, you can choose how you want your ads placed. Then you can make a budget and a schedule for your ad. You can set a daily budget (for example, to spend $5 on circulating the ad each day) or a lifetime budget, (how much you will spend on the whole run of the ad). You'll also be given the option to run your ad constantly from the time you create it, or to set a start and end date for the ad. When this is complete, click "Continue".
You will then be asked whether you want your organisation to be represented by its Facebook page or its Instagram account, if you have one. Then you can pick your ad format. This can be a single image or video, a slideshow, multiple images or videos that people can scroll through, or a collection of images (this is designed for mobile users). On this page, you can write the text for the ad, select images or videos, and add links (for example, to your website, or to your Facebook page). There will be a panel on the right that lets you preview your ad and see how it will look for mobile or desktop users.
When you're happy with the way your ad looks, click "Confirm". You will then be asked to pay for the ad with a credit card or PayPal. Enter your details and click "Continue". Then you're done!
You can track how well your ad is doing using the Ads Manager, the same place where you created the ad. Facebook will tell you how many people the ad has reached, how much money you have spent on the ad, and demographics of who has seen the ad. If the results aren't what you wanted, you can make edits to make your ad the best it can be.
An article by Clodagh O'Carroll
Clodagh O'Carroll is about to graduate with a Bachelor of Communication Studies. Her special interests are public relations, writing, and media studies. She also has an interest in non-profit organisations.
An article for Events Pronto and its followers
Events Pronto is the all-kiwi online booking and administration platform that takes the leg work out of managing conferences, events, courses, workshops and much more. Organisations pay a small monthly or annual fee to use the service - no booking fees, agency fees or commissions! Try it free here or call us on 07 575 6903.
To see the latest articles by Clodagh and other contributors please follow Events Pronto on Facebook.