Blog
Venue Watch: Agrodome
27 July 2017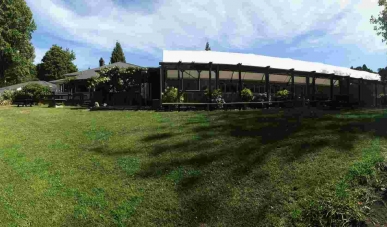 It might surprise you to know that the Agrodome is not just a successful tourist venture, but also a quintessential kiwi conference and event venue. It features a rustic barn catering for cocktail to very casual functions of up to 700 people and dinners for up to 550, and a farmhouse catering for groups of 120 guests, with ample outdoor area. After the farm show finishes, there is also an auditorium with in-built sound and theatre style seating for up to 475.
Conferences
Nothing says New Zealand better than farming, so if you're planning an international conference, having the Agrodome in your itinerary as a venue, excursion or both, will ensure delegates get the quintessential kiwi experience. This venue will make an impact on kiwis too – whether its reminding them of their rural roots or giving life-long city dwellers a taste of country.
Choose it as the main venue for a smaller summit or rurally oriented workshop or cap off your hotel-based conference with a country-themed dinner, cocktail function or even a barn dance. If country isn't for everyone, at least include the Agrodome in your apres-conference or excursion options. The Agrodome and Rainbow Springs Nature Park are both Ngai Tahu operations, so if you are looking to offer a variety of conference entertainment options you may want to book these as a total package.
Social club, club events and fundraisers
Located about an hour's drive from each of Hamilton, Tauranga and Taupo, the Agrodome is a very accessible venue for staff, customers, supporters or members from throughout the Bay-Waikato area to gather.
Choose the farmhouse and surrounds for a bar-b-que, dinner, dance event or small indoor concert, and spill over onto the terraces and paddock for almost limitless outdoor action opportunity.
The cottage includes a full kitchen and the rooms can be divided off to suit audience size. Theme it to reinforce the country cottage image or dress it up for a more formal affair. For family-friendly events be sure to add in the farmyard nursery or Clydesdale experience for extra impact.
Management retreats, team-builders and the likes
Sure, there are a lot of venues you can choose for team-builders that have a choice of room size, a stimulating environment and outdoor space, but how many come with optional extras like sheep herding, a legendary farm show and back country adventures? If you are thinking that your team have enough farming in their everyday life, think again. At the 2006 census Statistics New Zealand reported that over two-thirds of New Zealanders (72%) lived in urban areas. With the rapid migration into cities like Auckland in recent years, its likely to be a lot more now. If your team has even its fair share of new New Zealanders, this is a good choice of venue for helping your acculturation efforts.
Equipment exhibition and demonstration days
This venue screams 'pick me' for anyone planning a dealer conference or demo day for large equipment like agriculture, groundscare, construction or outdoor leisure equipment. Where else do you have ample room for outdoor exhibitions and demonstrations? Include barn-hire in your package and you've got a weather-proof environment for the exhibition even if things get torrential.
Venue Summary
This venue is ideal for events farming or country themes, gatherings from across the Bay-Waikato area and team-building events that reinforce kiwi culture. It will have special appeal for those catering for international guests or creating a family-friendly event.