Blog
That's It! I'm out of here! Time for a change!
24 July 2017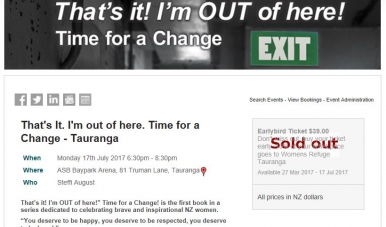 After gathering a full house before her early-bird offer expired, motivational speaker Steffi August secured increased venue capacity, then sold out the event for a second time. Steffi has steadily built her community around her.
This event was the first of a series to launch her book celebrating brave and inspirational NZ women. Several of those who had contributed their stories to the book spoke on the night, and all of them bought supporters and well-wishers with them. Others came to support Steffi herself, or to support and be inspired by the guiding principle of the book - "You deserve to be happy, you deserve to be respected, you deserve to be loved."
The role strong personal relationships had in the success of this event can't be emphasised enough. Steffi paid tributes and compliments to the speakers and the audience throughout the night. Here are some of the things she did really well:
Prior to the event Steffi had prepared special 'stand out' name badges for the speakers. That gave them well-deserved recognition and helped the crowd seek and acknowledge them in passing too.
The event was fast-paced. Steffi herself was a vibrant MC. A number of contributors to the book spoke. They all spoke from the heart and really held audience attention.
After each series of speakers there were prize draws to engage and excite. It felt like the whole audience took pleasure in celebrating the success of the winners.
Steffi did an exceptional job in recognising the sponsors who donated prizes. It wasn't the traditional announcement of a 'Coffee and plunger pack' from Kiwi Espresso. It was an enthusiastic announcement of 'Coffee! Who doesn't like coffee?' Then, a very personal story about how generous the sponsor, Rachel Cooper from Kiwi Espresso had been and how wonderful the coffee smelled.
Steffi demonstrated her genuine commitment and community spirit by donating 10% of the event proceeds to the Tauranga Women's' Refuge to provide support to those needing help during their moment of courage and bravery.
You can register for other events by Steffi
here
and buy her book on her new web page
www.steffiaugust.nz
or at Paper Plus at the Mount.
Events Pronto is the all-kiwi online booking and administration platform that takes the leg work out of managing conferences, events, courses, workshops and much more. Organisations pay a small monthly or annual fee to use the service - no booking fees, agency fees or commissions! Try it free here or call us on 07 575 6903.