Blog
The Winter Warmers Upgrade
6 June 2017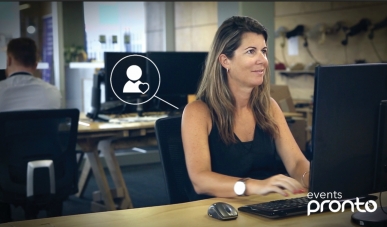 Taking the hassle out of running events and courses really warms the heart. In this upgrade our Events Pronto customers have lots of heart-warming opportunities to save time. Almost all new features in this upgrade are optional. You can make your life even simpler by calling us or help with set-up. We'll either set up the option for you, or step you through how it's done.
Here's what the latest upgrade does for you:
Xero integration – so you can send invoices and receipts generated in Events Pronto or other Rooster powered site straight to Xero, saving admin time.

E-invite turbo boost

– this update enhances email deliverability rates and addresses challenges created by growth in the use of systems like Office 365.

New Credit Card options

– introducing some new, simple, economic credit card processing options ideal for organisations with low transaction values and volumes.

API Connect

– this allows your web developers to draw things like event listings out of your Events Pronto or other Booking Rooster powered site and display them in another website – with your permission, of course.
Xero integration is here!
Now you can send invoices created in Events Pronto and all Rooster-powered sites direct to Xero, saving loads more administration time. If you receive payment at the time of purchase the receipt is sent to Xero automatically too. It even receives back payment confirmation for money receipted in Xero so that both systems stay in tune with each other.
Standalone Booking Rooster powered sites like the Vertical Horizonz and Besafe sites have been integrated with Xero for several years now.
The e-invite tab just got a whole lot more powerful.
The mail will get through
As the world supply of spam increases, so does the supply of anti-spam software built into email handling systems. The challenges of getting legitimate emails delivered reliably increased with the introduction of Office 365. It's anti-spam vaccines have an annoying side-effect of also blocking many legitimate emails – especially if they are part of a bulk email-out.
To improve delivery rates Booking Rooster and Events Pronto have hooked up with an external email sending service, Mailgun. Now, your emails are sent via Mailgun which makes it less likely to be mistaken for spam.
If you have your own domain, you can boost deliverability even more by registering to send mail through your own domain. This option is recommended for all organisations who have their own domain – it isn't suited to those who use email services like @xtra, @gmail, @hotmail or @icloud.
Mailchimp integration is here. If you're one of our many clients who keep contact lists in Mailchimp, you can now use the contact lists you have stored in Mailchimp lists to send e-invites. The advantage of sending through e-invites is that the system automatically remembers who has booked and who has not, allowing you to use the reminder system.
To use this option, just go to the new advanced organisation settings page and add your Mailchimp details. After this is done your e-invites will start talking chimp. That means that when you send e-invites, you'll see the option of sending to your Mailchimp contacts. Of course, you can select various lists within Mailchimp, or add and remove individuals before you send.
Do you want to get more intimate with the chimp? There's lots more we could do now that we are talking chimp, so please get in touch if you want more features. Possibilities for the future include automatically updating your contact list from Mailchimp and automatically sending new bookers into your Mailchimp list.
New Credit Card Processing Options
The hunt for credit card processing options with a simple pricing structures and simple sign-up procedures lead us to Stripe and Braintree.
There is no flat monthly fee.
The pricing is simple – you just pay them a fixed amount per transaction and a % fee.
Their rates seem very competitive for organisations with low transaction volume and value.
The set-up process is simple.
You can add Stripe or Braintree in the payments section of your Organisations tab, or call us for help. Just remember to sign up for Braintree or Stripe before you get started.
This piece of the upgrade allows Events Pronto and other Rooster powered systems to send information to your organisation's website, or to other online systems like your CRM. With your permission, your developers will be able to:
Automatically add event details and links on your website (or any website you choose).
Receive transactional details, like which events each person booked or attended into your own online CRM or other system.
To get these options up and running fast just call us on 07 575 6903.