Blog
Venue Watch: The Blue Baths
8 May 2017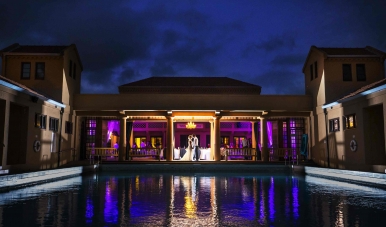 Ample Ambience
Ambience is everything in creating a memorable event, and what better place to start than with a venue that carries your guests instantly out of the everyday and into the event experience. Rotorua's Blue Bath's is one of those venues. If you're planning an intimate gathering for 80, a gala dinner for 350 or a big bash for 550, it deserves to be on your venue shortlist.
First impressions count and it is hard not to be impressed by the sense of place created as you drive to the venue through the Government Gardens historic precinct or by the simple grandeur of the Spanish-mission style building which is the Blue Baths.
Heritage New Zealand describe the building as 'alluding to the exotic pleasures.' Need we say more? When the Blue Baths opened on New Year's Eve in 1933, they were highly controversial. Not only where they glamourous in a time of austerity, but they were risqué. Very risqué. At the Blue Baths men and women bathed together in one pool rather than in their own separate areas. Really! If walls could talk!
Roll forward over eighty years and the water has been drained from the controversial pool, making way for a stunning event venue that oozes style. There is still a large outdoor pool and two soak pools open to the public from 10am in summer and from midday in winter and available as an event venue in the evening, but the real action is in the function rooms.
The building style and décor lends itself to easily to black-tie, razzle-dazzle or country club casual events. It can be easily transformed for weddings, conferences and corporate events. To the historian or architecture enthusiast the building is unique as the only Spanish Mission-style geothermal baths in New Zealand, and one of very few in the world. To the event manager it is unique as a venue that can lend itself effortlessly to a variety of themes.
Lido Lounge Luxury
Up to 350 people at a seated reception or 550 for cocktails
The Lido Lounge itself has wow-factor, even if you don't have the time or inclination to decorate. Literally set within the calf-height concrete walls of the historic adult pool, the room has a stage, wings and green room to accommodate performers. Guests enjoy stylish surroundings and views through a latticed screen to the shimmering blue waters of the fully restored outdoor pool.
This room has a style of its own. For a glamour event, have your guests enter straight from the reception area with its simple tiles and aged woods. For a retro-theme, have them wind their way through the historic displays in the u-shaped corridor that was once the men's changing rooms.
It would be hard not to go all out for a themed event in the Lido lounge. Compliment the venue's Spanish architecture with piñata, sombrero and margarita for a Mexican Fiesta, use it's Hollywood accents to create a night at the Oscars, LA Pool Party or glamour event, or draw on its risqué reputation for a cabaret night that sets the house on fire.
Social Room
Up to 80 people at a seated reception or 120 for cocktails
For a smaller, more intimate affair, ascend the terrazzo stairs or take the lift to the first-floor Social Room. The large arched doors open onto small balcony's overlooking the government gardens on one side, and an outdoor terrace that can become an extension of the room. Think BBQ events, an outdoor bar or a break-out area complete with outdoor furniture.
The room itself is made intimate for smaller groups with a simple repositioning of the room divider. When set up for a small conference or training session it's a light, practical space. When dressed to impress you have the perfect setting for a high tea or a small dinner event. The need to climb stairs or take the tiny lift can be limiting for some, so be sure to think about the mobility of your guests before booking this room.
Special Onsite Services
Blue Baths Catering
The Blue Baths offer in-house catering, covering their home venue and several others. We haven't had the chance to sample their cuisine yet, but judging by the number of venues they cater, and the tip off's we don't expect you'll be disappointed.
Blue Baths Entertainment
The Blue Baths do almost everything entertainment and are world famous in Rotorua for their cabaret dinners, comedy shows and theme nights. For a social club outing or staff get-away follow The Blue Baths on Facebook for upcoming events.
Venue Summary
This is an inspiring venue, with in-built ambience. Choose the Lido Lounge for a gala dinner or large cocktail event and the Social Room for a more intimate gathering with indoor-outdoor flow. Work with the décor to create a themed event in a jiffy, or go wild and go all out with the theming. The possibilities in this venue are limited only by your imagination.