Blog
How to write event listings that work
25 March 2017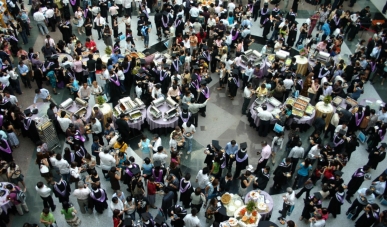 One mistake event managers often make is to pour their heart and soul into creating an unforgettable event that oozes atmosphere, but just whip up their event listing and e-invites in minutes, forgetting to inject the same energy into the event listing or to write in a way that makes people feel excited and welcomed.
Before you write your event description, picture the person arriving at the event, feel how you want them to feel, hear the buzz in the room around them, then try to project that same type of energy into your event description. Then follow this path to a winning event listing:
1.Create a winning event name
Your event name works just like a headline in a newspaper. Its job is to draw people in and entice them to find out more. Try a title that grabs attention in a few short words. Remember that you have to reach and engage people before you can inform and inspire them. Here's a few goodies to set the mood:
If you're planning to send event invitations by email, take care to avoid words or symbols in your event name that trigger spam filters. We hate to clip your creative wings, but people can't RSVP if their invite goes straight into their junk folder or doesn't even make it that far. Some things that send emails straight to the junk folder without passing go are:
Using all capital letters and exclamation marks.
Symbols like $, %, and #.
Sales' language (check out the spamy words list here)
2.Use your event summary to your advantage

Add a punchy event summary with a clear call to action to entice more people to open your event listing or help them quickly scan your listings for the options that best suit them.
You can also use this space to add the detail you were tempted to include in the event title, answer burning questions up front and to add powerful calls to action. The summary doesn't get emailed, so you can ignore spam filters and let the creative juices flow. Try out a summary like these:
Programme is one day a week for three weeks + 1/2 day graduation 1st June. (Dale Carnegie Bay Waikato).
JOIN in on our INfuzed Style networking at various locations across Tauranga. NO CHARGE, however you NEED to book ASAP to secure your SPOT. (INfuzed)
3.Craft a compelling event description
You can rarely write an event description that inspires people to sign up in one sitting. One strategy is to use the 5 step approach. Go to town with your sales language in the event description that shows in your event listing. Just remember to tone it down a bit before you send it out in email format or you might fall into the spam filter trap.
Step one – list the facts.
There's no better way to be sure you are telling a complete story than to use the good old fashioned 5W writing method. With Events Pronto the 'When', 'Where' and 'How much" are built in, and don't need to be repeated. So your event description, so you can focus on:
What is it?
Who is it for?
Why come?
Start by writing bullet points under these headings. Then, develop your paragraphs from there. Don't feel you need to turn everything into paragraphs – bullet points make for easy reading.
Step two - make it about them
Marketer's talk about 'you centred language'. The idea is that your sentences should be centred on what you will get out of coming to the event, rather than what the organisation is offering. Here's some nice 'you centred statements' plucked at random from some great Events Pronto Listings:
This seminar will help you understand…
This event is designed to help you achieve ….
When you have…
You will learn how to…
You will journey through….
Enjoy a sumptuous breakfast…
Step three - inject the right tone no matter how dry the topic
If you are running a Masquerade Ball or a Casino night you'll know just the kind of language and images to really set the scene. If your event is less strongly themed you can still make it ooze personality by adding lots of action words, describing words and a touch of emotion. One way to get the right kind of words is to think about what you'd like people to say about the event afterwards. Write down some of these words to help set the mood. Try to use language that brings a smile to the face – unless you're meeting about a very serious issue. Here's some phases that set a great tone and tug at heart strings
This fast-paced….
Treat yourself to…
Be proactive…
Enjoy copious cups of tea while …
Learn by doing…
Step four – be sure to invite and welcome them
People need to feel welcome and included, so be sure that your event listing doesn't just describe what's happening, but invites them to be part of it with statements like:
Join us for
Be part of the action
Come together for
Invites you to
You're welcome to bring a friend.
Step five - step back and step into their shoes
When you think your event listing is ready, save it, making sure the privacy option is set to 'invitees only' just while you take a break. Then come back and review it. Better still, share it with just a few of your nearest and dearest and ask for their feedback. Ask everyone to think about:
Does it tell you what you need to know about the event?
Does it make you feel inspired to book?
Does it make them feel welcome?
Is the tone right for the event and is it upbeat enough?
Still feel underconfident about your event listing? If your event is listed on Events Pronto, shoot an email to moira@eventspronto.co.nz including your organisation name, event name and your contact details. She will be happy to check over your event listing and give you some tips. Just remember to allow a few days for her to respond – there may be a few people in the queue ahead of you. If you think it's OK but want a bit of polish on it, why not push it live straight away and then ask her for help.