Blog
Speed booking process
12 May 2017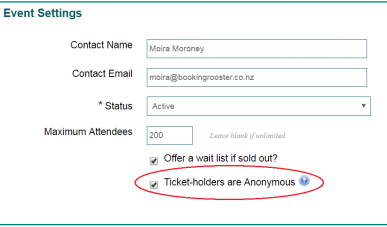 For super rapid event booking, choose the 'ticket-holders are anonymous' option when you add an event. This will prevent people being asked to add ticket-holder names when booking.
This option is ideal when you just want to know how many people are coming and don't need to know exactly who they are.
You will find this option on the first screen after you click to add a new event. You can also choose it after you've created the event:
Go to Events in your menu bar.
Scroll or search to find the event you want to edit.
Click 'edit event details' beside the event name.
Scroll down to 'Event Settings'.
Check the box beside "Ticket-holders are anonymous.
Scroll to the bottom and click 'Update'.
This option is not right for every situation. If you need to know the name of each person attending, want tickets to be non-transferable or need a high level of access control at your event, then you will really need each ticket-holder to be named.
Another side effect of keeping ticket-holders anonymous is that you can't ask about special dietary requirements, access needs or the likes on an individual basis. You can still use the advanced registration form options to ask if anyone on the booking has special requirements, but this isn't suited to all events. Imagine the caterers trying to deliver the Vegan meals at a seated dinner, if they have no way of identifying who is who.
So what can you do if you want to know ticket-holder names but you do expect some bulk bookings and know they won't have the names until the last minute?
There are two good ways of handling this:
Require names on all tickets, but offer options like a 'bulk' ticket that admits multiple people under one named ticket-holder, for example a ticket for 'One table of 10 people."
Require ticket-holder names. Then, call or email those who are likely to buy in bulk and offer to take their booking by phone. Event Organisers have special priviledges allowing them to add a booking without naming the ticket-holders and even to add the ticket-holder names and special requirements later.
If you have questions about whether the 'ticket-holders are anonymous' option is right for you, just call Events Pronto on 07 575 6903. We're always happy to hear about your event and help you choose the registration form options that are right for you.