Blog
Upfront pricing no hidden fees
2 April 2017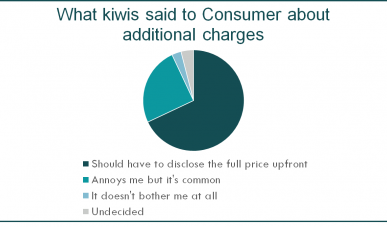 Some ticketing systems add a service fee, a ticketing fee and a credit card fee on top of the advertised ticket price. Events Pronto do not. They do not charge the organisations that run events transaction fees and they do not add undisclosed extras to ticket prices.
"Event organisers sometimes ask to add extra fees to ticket prices, but it is something we don't do," says Booking Rooster co-founder and Events Pronto pioneer, Moira Moroney. "Ticketing agencies work that way, but we don't."
Moira says the decision to restrict organisations to advertising the whole ticket price up front was easy for the Events Pronto course and event registration website as it is a New Zealand booking website and Kiwi's just don't like hidden extras.
This view is supported by the
findings
of a Consumer survey of over 1000 New Zealanders aged 18. The survey found that most kiwi consumers feel annoyed when additional charges were added to the price of goods or services:
68% didn't like additional charges being added and felt retailers should disclose the full price upfront.
25% were annoyed but accepted it as common business practise.
3% weren't bothered at all.
4% were undecided.
These results are reproduced in the graph. The issue has Consumer New Zealand really fired up – they are petitioning parliament to remove 'sneaky fees' that are 'misleading consumers about real pricing.' The Consumer case for change is available on their
website
.
The commitment to being upfront about ticket pricing goes deep for Moira, who has a long career in customer engagement related roles.
"Events Pronto is for organisations who want to create connected communities, not just promote and sell tickets," says Moira. "The long-term benefit of open, honest, upfront price disclosure far outweighs the short-term gains made by creating lower ticket price perception," she says.
Events Pronto applies their upfront pricing approach to their relationship with both ticket buyers and organisers. Organisations who list events and manage bookings through the Events Pronto website pay a simple monthly or annual subscription.
"The subscription is all we charge for using the site - there are no per booking or per ticket fees," says Moira. "It is very clear what value of transactions you can do within each rate plan and how many e-invitations and other emails you can send through the site within the plan."
All ticket revenue collected through Events Pronto goes direct into the host organisation's own bank account, not into the Events Pronto account. This avoids cash-flow delays and costly mark-ups. Organisations that use Events Pronto make their credit card processing arrangement direct with a credit card processor, or simply accept payment by internet banking.
The Booking Rooster and Events Pronto teams accept that adding extra fees at the end of the purchase process may be appropriate in markets outside New Zealand. Both Moira and National Accounts Manager, Chris Winslade, have worked extensively in North America where hidden extras are the norm.
"We know that US consumers expect hidden extras, so we would consider it for that market,' says Moira, "The structure of the platform makes it easy for us to introduce added fees in North America without forcing it on New Zealand consumers too."
Moira is careful to say the company would only consider added extras in North America. "Having a clear, simple, transparent approach to pricing for people who run events and people who buy tickets is a real point of difference for us," she says.
One objection to the Consumer stance on 'sneaky prices' is that making local policies flies in the face of the trend toward globalisation made possible by the internet.
Moira disagrees. "The internet gives people more power to tailor things to individual markets, not less. It gives us more potential to act in a locally appropriate way," she says.
"The fact that kiwis sometimes choose to buy from overseas websites without local levels of consumer protection doesn't mean that all New Zealanders should be subject to lower levels of consumer protection when they buy locally."
So does the company apply this approach to extra's to the stand alone booking websites it provides to corporates and large training businesses?
"We don't encourage it," says Moira. After seven years in business the company has never added this functionality.
"We've been asked to add extra fees to a stand-alone Rooster powered site occasionally. In every case we had the conversation about the kiwi preference for transparent pricing, and our customers quickly chose to advertise the full price upfront."
The Events Pronto website is provided by the Booking Rooster for kiwi organisations that run free events or collect up to $170,000 in ticketing revenue per annum. Events Pronto subscribers use the same booking platform as the bigger organisations that have stand-alone Booking Rooster powered sites and have access to most of its tools to help drive engagement, manage bookings, control finances and deliver results.