Blog
Long development pathway creates robust booking system
1 February 2017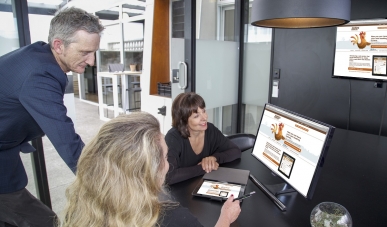 The world wasn't created in a day, and neither was the Events Pronto Platform. The pathway from conceptualisation to commercialisation took 7 years. That means a system that's robust, well tested and powerful.
The idea for Events Pronto started with three Tauranga professionals who were frustrated with the antiquated options available when they registered for business events, fundraisers and training sessions.
In June 2010 they started chipping away at developing the product that would eventually become Events Pronto -in between projects for their other businesses. The trio had worked together extensively on website development projects already and enlisted the help of a trusted developer.
Loosely following the lean development approach they took the product they thought was an 'almost releasable state,' to a bunch of event administrators and sought feedback.
"They were very helpful and supportive, but it was also very clear that we had a long way to go to produce a saleable product," says Co-founder Moira Moroney. "They also caused us to rethink our whole commercial model."
The commission-based solution the team were planning was clearly not what the market was looking for. Many prospects weren't comfortable with using any system that clipped the ticket or took a percentage of their sales. Even some who used online ticketing agencies already were looking for an alternative.
Another key concern was that they wanted their contacts to remain theirs. It wasn't just about the fury they felt when people who clicked on their event were served up a competitors offering, it was overwhelmingly about their duty of care to their customer or members.
"New Zealanders value privacy highly and organisations don't want to risk exposing their contact database to any external party. There is a lot of resistance to services that require the customer to release their contact details to a third party in order to book. It weakens the relationship of trust between an organisation and its customers," says Moira.
After a lot of soul searching and competitive analysis the team switched focus and decided on a two-pronged pathway to commercialisation. The company, by this time called Booking Rooster, would focus on dedicated booking websites for corporate events and training companies as its first priority and come back to creating a course and event booking platform suited to SME's and community organisations when the time was right.
The first Booking Rooster powered event website, zesprievents.co.nz went live in 2013. Knowing that the product was far from finished, the Booking Rooster offered Zespri were free upgrades and the development team quickly realised value of this offer. "Usually you worry about picking up the phone to report a problem or share an idea because you don't know how big the support bill will be," says Moira. "Offering the early adapters free support and free upgrades took away this barrier and meant they naturally steered us toward the right development pathway. We took a few wrong turns along the way, but eventually learned to sort the wheat from the chaff a little more and focus on the ideas with widest appeal.
Many of the system features most valued by clients have come from those early pioneers and some of these have become hallmarks of the Booking Rooster and Events Pronto systems. "The ability for event organisers and training co-ordinators to capture phone bookings and door sales alongside online bookings is a real competitive advantage for us," says Moira. "We didn't think of it ourselves, we just responded when our customers told us they needed it.
Each time the team put in a new Booking Rooster powered site they discovered a whole new layer of client requirement. Rather than customise solutions to each client the Booking Rooster team worked steadily on enhancing the whole system, and reinforced its 'free upgrade' offer to all clients.
"The free upgrade offer for early Booking Rooster clients has been pivotal in our development,' says Moira. "It's meant that people could invest in our technology knowing that they won't be stuck with a dinosaur tomorrow. It also streamlines support because all users are working on the latest upgrade and we're not scrambling to remember how things worked in 2013 as well as 2016."
By the end of 2015 the bugs were all well ironed out, the system very robust and the change requests more about adding new functionality than improving the existing. It was time to start work toward fulfilling the vision of a booking website for SME's and community organisations.
"Our first step was to run user experience testing with bookers. We knew a lot about the event administrators experience because we got feedback from administrators, but we didn't' really know how it felt to be a booker faced with the system for the first time," says Moira.
The system was put to the test at Ultra Fast Fibre's Beyond Broadband Exhibitions in Tauranga and Hamilton in early 2016. During the shows one hundred and sixty-eight people made test bookings and rated the system. The result was an overwhelming 6.5/7 user experience rating, but for the development team the more important findings were the observations about where people hesitated during bookings and how different people tackled the booking process. That lead to a whole raft of booking process tweaks to polish the product.
The next step in moving from only offering stand-alone corporate booking websites like zesprievents.co.nz, vhnztraining.co.nz and besafetraining.nz to offering a shared services model through the Events Pronto platform, was to understand how the needs of smaller organisations differed from those of the corporates and large training enterprises who had Rooster-powered sites.
"We went on the hunt for some Pronto Pioneers – people to use eventspronto.co.nz in its infancy, and give us feedback." The first organisations to step forward into the Pronto Pioneer community were SUPA-NZ who ran the 2016 Silver Economy Symposium, Breast Cancer Tauranga who use it for fundraising events and the Lake Tarawera Ratepayers Association who use it for working bees, their AGM and a host of other events, mostly free events.
Feedback from these and other Pronto Pioneers set in track a host of improvements to the email marketing, payment processing and booking management features of the system, leading to the launch of a fully commercial system available on a subscription basis.
Moira is very proud of the achievements. "It's a very robust system as it's had nearly seven years of development and refinement. It's also a very progressive system due to our commitment to constantly adding features."
The company is constantly reviewing the product with customers and adding features to add even more value. The test case for whether a new feature gets development priority is how much it contributes to helping organisations to drive engagement, manage bookings, control finances and deliver results.